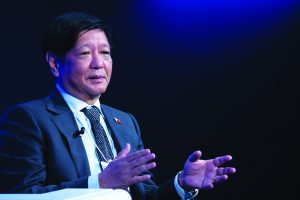 BLOOMBERG
Philippine President Ferdinand Marcos Jr said the US will gain expanded access to military sites in northern Philippines close to Taiwan, as well as in Palawan province near South China Sea, paving the way for greater American presence in key locations as tensions with Beijing linger.
Marcos said at a televised briefing that the four additional sites under the Enhanced Defense Cooperation Agreement are "scattered around the Philippines" and will be identified once formalised with the US.
The new sites are meant to "defend" the main Luzon island's eastern coast as well as some areas in the south, the president said. Local politicians who initially opposed the sites have "come around to support" the plan to expand US access after talks with the national government, he added.
Regional countries "should stay vigilant and should not be used by the US side," China Foreign Ministry spokesman Wang Wenbin said on Wednesday. "The US, out of its zero sum mentality, has built up its military capacity, which jeopardises the regional peace and stability," the Chinese official said at a regular press briefing in Beijing.
The US has secured access to four more Philippine military sites amid continued tensions with Beijing over Taiwan and the South China Sea. China has criticised the plan, with its embassy in Manila describing it as part of US' attempt to "encircle and contain" Beijing.
Marcos has been bolstering his nation's longstanding defense alliance with US that was strained under his predecessor Rodrigo Duterte. The US and Philippines are planning joint patrols in the disputed sea, and are scheduled to hold bigger military drills next month. Their top defense officials and diplomats are also set to meet in Washington mid-April.
The president also said that lawmakers proposing amendments to the constitution are aiming to revise economic provisions that would allow the Philippines to "take full advantage of the new economy."
In a speech during the Philippine Army's founding anniversary celebration, Marcos said his government remains committed to modernising the military.
"To the army leadership, I am aware that emerging threat to our territory and our emphasis on addressing this threat requires adjustments in our strategies," the president said. "The external security environment is becoming more complex, it is becoming more unpredictable," he said while telling the soldiers to be vigilant.