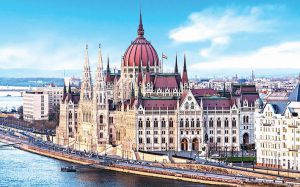 BLOOMBERG
Hungarian consumer price growth slowed for the first time in 19 months, giving policy makers room to consider when to start reducing the European Union's highest key interest rate.
Headline inflation, the EU's fastest, slowed to 25.4% in February from 25.7% the month before, the statistics office said. The data matched the estimate in a Bloomberg survey.
It's too early to predict how quickly the central bank may pivot to cutting its 18% key interest rate, which is the highest in the EU. Investors expect 64 basis points in rate cuts in a month and almost 180 basis points within three months, according to forward rate agreements.
The central bank has found itself advocating for a cautious approach to monetary easing, after a premature end to its rate-hike cycle last year pushed the forint to a record low against the euro.
Policy makers have said the key rate was their main tool to rein in inflation and anchor the economy as Prime Minister Viktor Orban struggles to unblock more than $30 billion in EU funding held up on graft and rule-of-law concerns.
That's caused a rift with Orban's administration, which has urged the central bank to cut interest rates as soon as possible to blunt its negative impact on the economy. Hungary entered a recession in the second half of last year, and a plunge in retail sales and industrial production in January suggested the downturn may be deeper than expected.