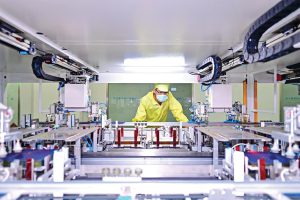 BEIJING / WAM
China has reported robust progress in its industrial development this year, marked by significant milestones in several sectors, according to the Chinese newspaper Peoples Daily Online.
The nation's first domestically-produced large cruise ship has wrapped up its maiden test voyage, with plans for its official naming and delivery by year's end. Further consolidating its aerospace credentials, two of China's self-manufactured C919 large aircraft have begun commercial operations.
In renewable energy, China continues to lead, unveiling the world's premier 16-megawatt offshore wind turbine in Fujian province. This demonstrates a notable enhancement in the country's deep-sea wind power construction proficiency.
In economy, all three industrial sectors—primary, secondary, and tertiary—show signs of solid recovery.
July witnessed a 3.7% year-on-year growth in value-added industrial output. Concurrently, the service sector surged, with the service production index increasing by 5.7% compared to the previous year.
For the agriculture sector, the first half of the year experienced an abundant supply of essential commodities, including vegetables, meat, and dairy products, hinting at another prosperous summer grain harvest.
In a landmark achievement, CITIC Heavy Industries, a Chinese company, recently dispatched the country's largest ball mill designed for overseas markets, symbolising China's leap in the R&D and production of grand-scale grinding equipment.
The manufacturing sector is progressively veering towards high-end development. From January to July, the equipment manufacturing sector grew 6.1%, consistently surpassing other large-scale industrial enterprises.
BYD, a renowned new energy vehicle (NEV) manufacturer, celebrated the production of its five millionth NEV in August, a world first for automakers.
Data reveals that in the first seven months, China's NEV production and sales spiked by about 40% year-on-year, capturing a 29% market share. Shandong Fuhai New Materials Technology Company showcases the future of automation. In its factory, trucks autonomously manage cargo loading and weighing, courtesy of QR codes.
This has resulted in a 15% boost in warehousing efficiency, testifying to the benefits of integrating the industrial internet.
China's strategic emerging industries, encompassing sectors like lithium batteries and NEVs, have become pivotal to the nation's quality economic advancement.
Hong Qunlian of the National Development and Reform Commission underscores this sentiment, highlighting the crucial role of green and smart innovations in bolstering the economy.
In the April-June quarter, both the entrepreneur confidence index and prosperity index for strategic emerging industries registered notable growths, reinforcing the positive trajectory of China's economic landscape.