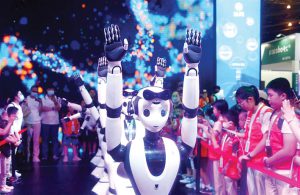 BLOOMBERG
China's burgeoning robotics industry has ascended towards mid- and high-end markets, with the nation emerging as a frontrunner in specific robot technologies and their applications, as reported by the Chinese newspaper People's Daily Online. Beijing hosted the World Robot Conference 2023 (WRC 2023), presenting a panorama of the latest in robotics. The event featured nearly 600 exhibits from 160 global robotics firms, 60 of which made their debut.
Spanning 10 distinct sectors, from manufacturing and agriculture to logistics and healthcare, the WRC also dedicated space for essential robot components. Official figures from China's Ministry of Industry and Information Technology reveal a burgeoning adoption of industrial robots across the country.
Robots now span 168 industries within 60 primary categories, establishing China as the world's primary industrial robot consumer for nine successive years.
In 2022, China manufactured an impressive 443,000 industrial robots, marking a 20% annual surge. These robots represent over half of the global market share. Additionally, nearly 6.46 million service robots rolled off the country's production lines. Highlighting China's innovation, a fruit-picking robot that can assess fruit ripeness by its colour and predict yields based on tree growth patterns was a star attraction at WRC 2023.
Experts credit the proliferation of intelligent service robots to advancements in artificial intelligence. A spectacular exhibit by Shenyang Siasun Robot and Automation Co saw four robots showcase their welding precision on a car. Manager Ma Cheng acknowledged the firm's achievements in breaking the foreign monopoly on automotive spot welding, crediting their proprietary software. The company has become a leader in spot welding, supplying numerous domestic auto manufacturers with their advanced robots.
China's robotics sector now boasts a comprehensive industrial chain, encompassing robot bodies, parts, and integrated applications, as noted by Wang Huan of the Chinese Institute of Electronics. Furthermore, a domestically-developed robot speed reducer was spotlighted at the WRC, symbolising China's stride towards self-reliance. For years, the nation had imported high-precision robot speed reducers. Now, Chinese robot manufacturers have overcome significant challenges in core components, increasing robot localisation rates.