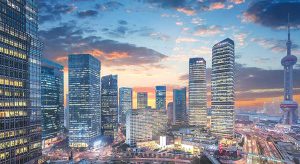 BLOOMBERG
A Chinese property developer whose default in 2021 has since fed into a broader industry rout is facing resistance to its restructuring plan from a major shareholder.
Fantasia Holdings Group Co's second-biggest shareholder TCL Industries Holdings Co opposes the terms of the debt-to-equity swaps, a key part of the restructuring proposal that would dilute shareholders' stakes, according to people familiar with the matter who asked not to be identified discussing private matters. TCL is seeking equitable treatment between minority investors and the controlling shareholder, one of the people said.
Hong Kong-listed Fantasia needs to hold a shareholder meeting to decide on the issuance of shares for the proposed debt swap, with support from at least 50% of voting shareholders required. TCL, which has a 17.5% shareholding, may vote against the issuance of new shares if current negotiations sour, said one of the people. It remains unclear when any shareholder meeting would take place.
Fantasia said in a response to Bloomberg that if TCL opposes the proposal, the restructuring efforts may fail, and in the worst-case scenario, shareholders would get zero recovery. TCL Industries didn't respond to an email seeking comment.
Fantasia has already secured creditors' support for its debt restructuring, meaning that any disruption at this stage could undermine an already advanced process. More broadly, the development highlights the clout that key shareholders may have as equity becomes a popular element in Chinese defaulters' restructuring plans.