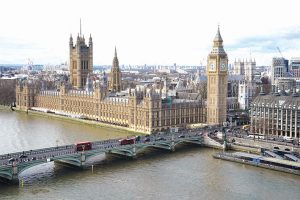 BLOOMBERG
UK Prime Minister Rishi Sunak's deal to solve the bitter dispute with the European Union (EU) over Northern Ireland's trading arrangements has sparked hope in the City of London that the two sides could finally formalise a pledge to work together on setting rules for banks and financial markets.
The so-called memorandum of understanding (MOU) on financial rules may seem like a fairly low bar for such economically-tied neighbours. But in the recent history of post-Brexit relations, it would count for progress.
Delayed for two years as other battles rage, the agreement is expected to gather fresh momentum if the "Windsor Framework" gets passed by parliament. "We are ready to start work on the finalisation of the MOU on financial services regulatory cooperation," said European Commission spokesman Daniel Ferrie. That could "open a new chapter in our partnership — a partnership based on a spirit of mutual trust and cooperation."
For optimists, the agreement could lead to joint thinking between HM Treasury and the European Commission over issues including money laundering, green finance, and cryptocurrencies. It could even lay the groundwork for a tripartite partnership with the US, forging international co-operation and better outcomes for firms with fewer divergent rules.
"A political dialogue would be new, and would allow for upstream financial services regulatory issues to be discussed every six months, or more frequently if required," said Andrew Pilgrim, EY's UK Government and Financial Services team leader.
That could help heal wounds, uniting Europe including the UK, according to Adam Farkas, chief executive office of the Association for Financial Markets in Europe, an international trade body for banks. "If barriers are reduced, it could be a win, win, not an I win, you lose," Farkas said.
An agreement would be a rare fillip for the City of London, which last year lost the top spot among Europe's stock markets and is currently grappling with a slate of companies ditching local listings in favor of the US. But plenty say it would be largely a symbolic one.
"I'm sure there are a few areas which will become unblocked," NatWest Group Plc Chairman Howard Davies said in a Bloomberg Radio interview.
There is skepticism that friendlier relations and officials sharing views on policy will have much of an effect on the amount of jobs and revenues moving from London to inside the EU. That is down to equivalence, the EU's test of whether countries have rules as strong as its own, which determines what access they get to its market.
The UK has got almost nowhere trying to win equivalence agreements from the EU since Brexit. For Jonathan Hill, a member of Britain's House of Lords and the EU's former Commissioner on Financial Services, that is not a surprise.
"An equivalence decision is a plum to give, and why would you give that before you know you want to give it and in exchange for something else?" Hill said in evidence to the House of Lords European Affairs Committee.
Brussels has granted equivalence to the UK in two areas since the Trade and Co-operation Agreement was signed in December 2020. One was over central securities depositories and ended June 30 2021. The other is for clearing, which has been extended to 2025 so that European banks and businesses can continue to clear euro-denominated derivatives trades in London's liquid markets, rather than trying to force that business within the Eurozone, where there is not currently not enough capacity.
David Schwimmer, chief executive officer of the London Stock Exchange Group Plc, said there were encouraging signs that the clearing arrangement would continue, which would be positive for its London Clearing House division.
But many in the City still think more of that business will be forced inside the bloc as part of the EU's long-held wish to boost local economies by creating a capital markets union across the member states, and to shore up the area's financial stability.