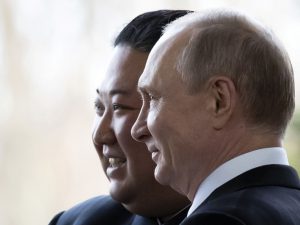 BLOOMBERG
North Korean leader Kim Jong-un appears to have departed for Russia via his luxury armored train, South Korean media reported, ahead of expected talks with President Vladimir Putin in Vladivostok that the US said would touch on arms transfers to help the Kremlin's war machine.
Kim's personal train was seen moving slowly towards the northeast border area, YTN cable TV reported, citing a South Korean government official it didn't identify. The official said Kim may hold a summit with Putin on Wednesday. The Dong-A Ilbo newspaper also reported the train was headed for Russia and expected to cross the border on Tuesday.
"The intelligence authorities believe the train presumed to be carrying Kim Jong-un is moving to Vladivostok," a South Korean government official told Yonhap News Agency. North Korea's official media has made no mention of a trip.
North Korea and Russia have a rail link at their border and from there it's about 150 kilometres (95 miles) to Vladivostok. The trip would be Kim's first outside of the Korean Peninsula since he last met Putin four years ago in the city. Kim's train moves at a plodding pace, with his rail journey to the Russian eastern city taking about 20 hours for him to reach his destination, Yonhap said.
Kim has been expected to travel this week to Vladivostok to meet with Putin during the annual Eastern Economic Forum, which started on September 10 and runs through Wednesday, according to a person familiar with the plans.
A Kremlin spokesman said there were no plans for the two to speak at the event, which left open the possibility they could speak on the sidelines as the forum ends.
The Kremlin has said Putin would be in Vladivostok early this week but has not mentioned a visit by Kim. Putin said he's looking to build stronger ties with North Korea "on all fronts" in a message marking the 75th anniversary of the state's founding over the weekend.
Putin and Kim held their first official meeting in April 2019. While the 2019 meeting touched on the breakdown of nuclear disarmament talks between North Korea and the US, the upcoming visit will likely be colored by Russia's invasion of Ukraine. The discussions will be focused on the development of the cooperation between the nations, a person familiar said.
The US for months has accused North Korea of supplying munitions to help Putin's war in Ukraine, something Moscow and Pyongyang have denied. It said again last week that arms negotiations between Russia and North Korea are "actively advancing."
The most obvious items Pyongyang has and Moscow needs are artillery shells and rockets that Moscow can use in the Soviet-era weaponry it has pushed into action in Ukraine.