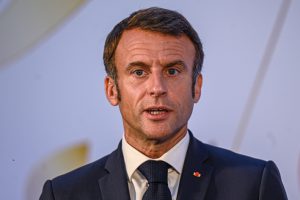 BLOOMBERG
French President Emmanuel Macron rejected a demand by Niger's military rulers to withdraw troops from the West African nation after a coup strained relations between the two countries.
"If we redeploy, I would do it only at the request of President Bazoum," Macron said, referring to Niger's ousted leader, as the G-20 summit wrapped up in New Delhi, India.
"We don't recognise any legitimacy in the declarations from the putschists."
His comments came after the ruling junta said France was ignoring its request for the 1,500 French troops stationed in Niger to leave the country by September 3. Nigerien and French military officers met earlier this month to discuss a plan for a French troop withdrawal from Niger, a junta spokesman said.
No progress has been made on implementing the plan, Colonel-Major Amadou Abdramane said in a statement on public broadcaster Tele Sahel.
Tensions between Niger and its ex-colonial power have grown since the junta ousted President Mohamed Bazoum in a July 26 coup and severed military ties with France. Macron has said he would back a decision by the Economic Community of West African States to use force to restore democracy — though the regional bloc has backed off the threat and said diplomacy is its priority.
Abdramane also said France was deploying troops in several West African countries as part of preparations for a possible regional military intervention aimed at ousting the junta.
"France continues to deploy its forces in several Ecowas countries as part of preparations for an attack on Niger in collaboration with the regional bloc," Abdramane said.
A spokesman for the Ecowas Commissioner said he wasn't authorised to speak on the matter. An Ivory Coast defense ministry spokesman wasn't aware of any troop movements.
The junta has called for continued protests until the French soldiers leave Niger.