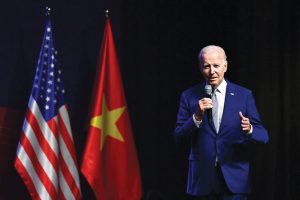 BLOOMBERG
President Joe Biden said China's recent downturn could diminish any inclination by Beijing to invade Taiwan, adding that the country's economic troubles have left his Chinese counterpart with "his hands full."
The US president, who travelled to Vietnam following a gathering of the Group of 20 leaders summit in India, said he had met with Chinese Premier Li Qiang while at the summit. Pressed on why he hasn't met with Chinese President Xi Jinping in 10 months, Biden said Xi "has his hands full right now."
The Chinese president opted not to attend the G-20 with no explanation given. The two leaders' next best opportunity to meet will be at the Asia-Pacific Economic Cooperation summit in San Francisco in November.
Biden said China "has a difficult economic problem right now for a whole range of reasons that relate to international growth and lack thereof, and the policies that China has followed."
"I don't think it's going to cause China to invade Taiwan, matter of fact the opposite, probably doesn't have the same capacity as it had before," he added. Taiwan's top emissary to the US, Hsiao Bi-Khim, called China's slowdown "alarming" in an interview with Bloomberg. She added that the island should become "less vulnerable" to changes in the world's second-largest economy.
The US president also addressed growing tensions between the world's two largest economies over their technological ambitions.
China is seeking to ban the use of iPhones for state-owned enterprises — representing a blow to Apple Inc and broadening previously announced restrictions that only targeted government agencies.
In 2017, the US Congress passed laws restricting certain Pentagon networks from using equipment from Huawei Technologies Co or ZTE.
"I'm not going to sell China material that would increase their capacity to make more nuclear weapons or engage in defense activities," Biden said.
Huawei recently quietly revealed a mobile phone utilising technology the US has sought to keep out of Beijing's hands, questioning the efficacy of US chip restrictions.
The developments, which came just as Commerce Secretary Gina Raimondo was wrapping up a trip to Beijing and as Biden was preparing to leave for the Group of 20 leaders' summit in New Delhi, could derail recent efforts by the US to thaw relations between the two countries.
The Commerce Department has begun an official probe into the advanced made-in-China chip housed within Huawei's latest smartphone, though more information is needed to determine how the chip was produced and what, if any, action the US will take in response.
Biden emphasized that he had no intention of trying to contain or isolate the world's second-largest economy. Biden and Xi have not spoken since the G-20 summit in Bali, Indonesia in November 2022. That encounter spurred progress on US-China relations before a new round of strains, including over Taiwan, military encounters in the South China Sea, Biden's export bans on semiconductor technology, and an alleged Chinese spy balloon that crossed the US.