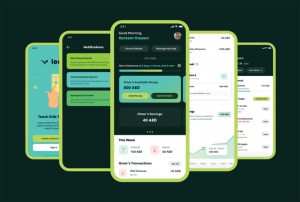 DUBAI / GULF TIME
As the new academic year begins, parents everywhere are gearing up to equip their teens with essential skills for a successful future. Financial literacy  forms the foundation of responsible money management. Leap is a revolutionary mobile app and prepaid Visa card designed to empower teenagers aged 6-18 with financial knowledge and cultivate lifelong good money habits and is so much more than just an app.
Leap is  an educational tool that transforms the way parents teach their children about money and financial responsibility. Leap provides an engaging platform for learning the building blocks of earning, saving, and spending money wisely.
Why Choose Leap for Back-to-School Preparation?
●       Empowering Financial Independence: With Leap, teenagers gain practical experience in managing money independently. From setting savings goals to making responsible spending decisions, teens are equipped with the confidence and skills to navigate the financial challenges of adulthood.
●       Real-life Simulations: Leap incorporates interactive real-life simulations, allowing teenagers to apply financial concepts in practical scenarios. Whether it's budgeting for school supplies or planning for extracurricular activities, these simulations prepare teens to face real-world financial challenges head-on.
●       Progress Tracking and Support: For parents, Leap offers a user-friendly interface that allows effortless tracking of their teen's financial progress. Parents can gain valuable insights, identify areas for additional support, and celebrate their teen's achievements, fostering a positive and rewarding learning experience.
●       Financial Goal Setting and Rewards: By encouraging teens to set financial goals, Leap instils a sense of purpose and motivation in their financial journey. As they achieve these milestones, real-life incentives and rewards help reinforce the value of saving and responsible spending. Joining Leap is simple and accessible.
To get started and learn more about its invaluable benefits, parents can visit www.savewithleap.com and sign up for a free account. Leap is available for download via App Store and Google Play with a 1 month complimentary subscription upon downloading.
Find out more at www.savewithleap.com and stay updated on social media @savewithleap.