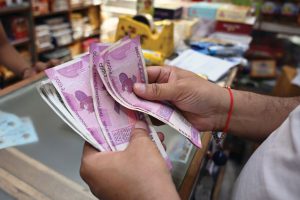 BLOOMBERG
India's rupee will not drop past the 84-per dollar mark even if the greenback strengthens further from current levels as the nation's central bank will step in to defend the currency, according to Standard Chartered (StanChart).
"The Reserve Bank of India has been protecting rupee from depreciating very sharply," Parul Mittal Sinha, head of India financial markets at the lender said on Bloomberg TV. The monetary authority has "been following the stated policy of containing volatility in the rupee," she said.
While the rupee has fallen 0.4% against the dollar so far this year, it is still one of the best-performing currencies in emerging Asia. India's forex reserves currently stand at about $593 billion, down from about $609 billion in July.