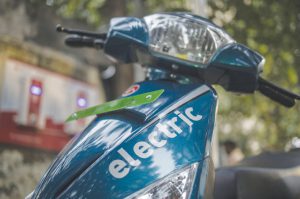 BLOOMBERG
When India decided to make a concerted push to green the world's biggest two-wheeler market, a slew of electric scooter startups emerged almost overnight. Now, many are falling out of favor for sourcing parts from China instead of locally.
The government is demanding that six companies — including Hero Electric Vehicles Pvt, once India's top e-scooter maker — return 5 billion rupees ($60 million) of subsidies for violating localisation rules. It's holding back unpaid subsidies from others, turning off a much needed source of capital in the process.
The upset can be traced back to last year, when a spate of e-scooter fires — which included bikes from Okinawa Autotech International Pvt and Ola Electric Mobility Pvt — prompted the government to probe whether companies were meeting the localisation norms.
It turned out that some manufacturers were importing ready-to-use parts, mainly from China, and thus had little control over the quality of their end products, leaving customers vulnerable to life-threatening incidents.
Ola, for its part, has emerged largely unscathed from the investigation and is now India's dominant company in the e-scooter market. It recently announced plans to localise its supply chain even further with an electric battery factory and raised $140 million in a round led by Singapore's Temasek Holdings Pte as it prepares for an initial public offering.
But others are battling to stay afloat.
Okinawa, Hero, Greaves Electric Mobility Pvt, Revolt Motors, Benling India Energy & Technology Pvt and Amo Mobility Solutions Pvt are losing ground and struggling to attract investors as the government holds back subsidies worth 12 billion rupees. According to the Society of Manufacturers of Electric Vehicles, e-scooter startups have lost a combined 90 billion rupees without the incentives.No 3 startup Ather Energy Pvt is trying to raise 9 billion rupees from existing shareholders Hero MotoCorp Ltd and GIC Pte, while TVS Motor Co, the No 2 player, is reportedly in talks with Goldman Sachs Group Inc for more funds.The shift has proven particularly difficult for early entrants like Hero, which started selling e-scooters in 2007. Those firms have found it more difficult to re-adjust supply chains in line with India's localisation rules that only launched in 2019. Ola had the advantage of building its supplier base to comply with the government's demands from the start, since it entered the market in 2021.
As the jostling for money continues, the stringent localization rules are slowing progress in electrifying two-wheeler transport in India.
That's a negative, as a thriving e-scooter industry is crucial for the nation to get anywhere close to meeting its zero-emissions goals at a time it's lagging behind other countries and battery-powered cars haven't taken off yet.
The high upfront cost of electric vehicles, a dearth of choice and a lack of charging stations have stopped people from making the switch from gasoline cars, despite worsening pollution in cities including in India's capital, New Delhi.
Just 1.3% of the 3.8 million passenger vehicles sold last year in India were electric, according to BloombergNEF. By comparison, in some cities in China, one in three new cars sold are now electric.
While building out a local supply chain and fostering the development of domestic auto parts firms is a noble pursuit, in such a motorbike-heavy market like India, the question that needs to be asked is, at what environmental cost?