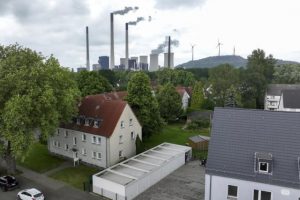 BLOOMBERG
Germany is facing a shortfall of about €12 billion ($13.2 billion) in its special climate-protection fund, suggesting the government in Berlin has significantly underestimated the cost of greening Europe's biggest economy.
Commitments to climate—protection projects exceed earmarked resources through 2026, according to people familiar with the budget details, who asked not to be identified discussing confidential information.
The estimated deficit doesn't take into account subsidies to ease the financial burden of replacing fossil-fuel heating systems, which could be as much as €15 billion, the people said. The ruling coalition agreed to ban new gas- and oil-fired heaters in Germany from next year.
Asked about the shortfall, an economy ministry spokesman said the climate fund has sufficient resources to cover the heating subsidies. He declined to specify how much they will cost. A spokeswoman for the finance ministry declined to comment on concrete funding amounts, referring to ongoing negotiations on the 2024 budget.
The Climate and Transformation Fund (KTF) was set up in 2022 outside the regular budget to provide subsidies for programs including renovating buildings, switching to e-mobility and clean manufacturing, expanding renewable energies and improving energy efficiency.
Germany is already likely to miss a goal of cutting greenhouse gases by 65% by 2030 compared to 1990-levels and additional funding challenges will mean the government will likely face some tough decisions on how to allocate available cash.
Economy Minister Robert Habeck, a member of the Greens who is also the vice chancellor, last week said the additional cost of subsidies to replace heating systems will be "manageable."
The government agreed to reallocate around €60 billion of unused pandemic aid to the fund, and it also receives revenue from European and national carbon-emissions trading mechanisms. That income is expected to increase from around €13 billion in 2022 to roughly €25 billion per year by 2026.
The fund has lost some of its expected revenue after a planned increase this year in Germany's carbon price on heating and fuels was postponed by one year due to the impact of Russia's war on Ukraine on energy costs.
To be sure, not all of the cash from the KTF allocated to specific subsidy programs is always fully exhausted and in some cases as much as 50% of the available funds is left over, according to people familiar with the details.
The uncertainty around funding for heating subsidies is playing out against the backdrop of a political spat that has been rumbling since last year between Habeck and Finance Minister Christian Lindner.
Lindner — a self-styled budget hawk who leads the business-friendly Free Democrats — generally opposes blanket bans, while Habeck is keen to swiftly execute Germany's transformation to an emissions-free economy and favours ramping up spending and implementing stricter rules to achieve it.
Last year, Germany cut its carbon emissions by 1.9% to 746 million tons, a reduction path that experts say is far too slow.