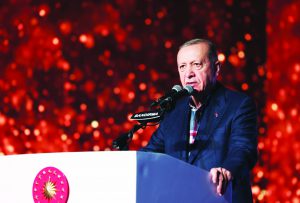 BLOOMBERG
Turkey's biggest non-aligned political party said it won't field its own candidate in May's presidential elections, in a boost to the main opposition coalition's chances of unseating Recep Tayyip Erdogan.
The Peoples' Democratic Party (HDP) and five allied left-wing groups will campaign against Erdogan's "one-man rule," Co-Chair Pervin Buldan said.
While she didn't explicitly endorse main opposition leader Kemal Kilicdaroglu, the move avoids a formal split among the president's rivals, who have sought a united front ahead of the May 14 vote.
HDP support has proved critical in past elections, swinging the vote against pro-government mayoral candidates in major cities in 2019.
HDP voters largely regard Kilicdaroglu as a politician who could help defend rights for Turkey's Kurdish minority, who make up around a fifth of the population of 85 million.
The party, currently the third largest in parliament, has been the target of a state clampdown since 2015, when it denied Erdogan's AKP a majority in a surprise election outcome. It faces a potential ban over separatism charges but could circumvent it by fielding parliamentary candidates on ticket of another pro-Kurdish group, the Green Left.
Kilicdaroglu emerged as the main opposition candidate two weeks ago after months of infighting held up a decision on who should run.
The opposition has since shown a united front to boost its effort to topple the country's longest-serving leader.
The opposition's growing unity underscores the challenge facing Erdogan as a public backlash mounts over his government's response to deadly earthquakes as well as the deepest cost-of-living crisis in the last two decades.