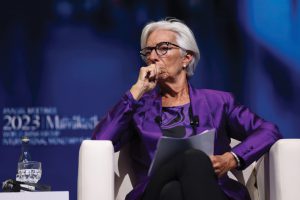 BLOOMBERG
European Central Bank (ECB) President Christine Lagarde said that slowing inflation is "certainly our forecast" and that the institution is determined to return prices to its target.
"We are determined to bring inflation down to 2%," Lagarde told the Greek newspaper Kathimerini in remarks posted on the ECB's website.
"According to our projections we will get there in 2025."
Lagarde said she isn't worried about the political implications of the central bank's efforts, which have been criticised by some European governments worried that higher interest rates will choke off growth. "Our mandate is to ensure price stability, and this is the best contribution we can make to social peace and to society, to the most vulnerable of its members in particular," she said.
The ECB has hit pause on an unprecedented campaign of interest-rate hikes as it seeks to to wrest back control of inflation. Officials have signaled borrowing costs will remain elevated, to ensure consumer-price gains return to 2%, though the weakening euro-zone economy is raising questions about when cuts will become necessary.
Lagarde said key performance indicators for Greece's economic and financial situation have shown "improvements across the board."   Greece's credit rating was raised to investment grade by S&P Global Ratings in October — the first such move by one of the big three assessors since the country was shaken by a debt crisis more than a decade ago.