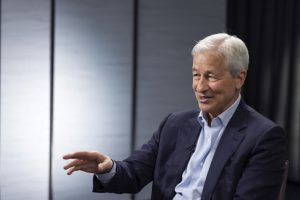 BLOOMBERG
JPMorgan Chase & Co Chief Executive Officer Jamie Dimon plans to sell shares currently worth about $141 million, the first such transaction since he took the helm at the Wall Street giant almost 18 years ago.
Starting next year, Dimon and his family will dispose of 1 million of the lender's shares for financial diversification and tax-planning purposes, according to a filing. Dimon "continues to believe the company's prospects are very strong and his stake in the company will remain very significant," JPMorgan said in the statement. The planned transaction, which is subject to the terms of the bank's stock-trading plan, would be the CEO's "first such stock sale during his tenure at the company."
The increase of almost 250% in JPMorgan's shares during Dimon's tenure — more than 10 times the gain in the S&P 500 Financials Index — has helped turn the executive into a billionaire. In early 2009, Dimon bought 500,000 shares in the bank as a sign of confidence amid a stock slump. He made an identical move in 2016, spending about $38 million on the two rounds of purchases.
Dimon and his family currently hold about 8.6 million JPMorgan shares, meaning the planned sale would represent less than 12% of their holdings in the New York-based bank. His net worth totals about $2 billion, according to the Bloomberg Billionaires Index.
Dimon is the longest-serving CEO of a major US bank. Another long-term CEO — the 65-year-old James Gorman at Morgan Stanley — will be replaced in January by Co-President Ted Pick, ending a 14-year run. That plan was announced earlier. The 67-year-old Dimon, atop the largest US bank since the end of 2005, has quipped for years that he plans to remain JPMorgan's CEO for five more years.
Wells Fargo & Co analyst Mike Mayo noted that Dimon's stock-sale plan "comes after his bearish comments that include the possibility of interest rates increasing to 7%.