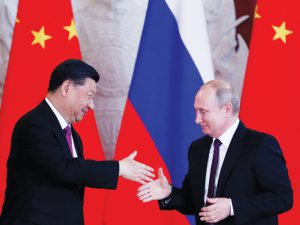 BLOOMBERG
China announced that Xi Jinping will travel to Russia on a three-day state visit starting on Monday, his first trip there since Kremlin forces invaded Ukraine and a strong show of support for President Vladimir Putin.
Xi will be in Russia from Monday to Wednesday next week, according to a statement from China's Foreign Ministry. Xi, who secured a third term as president a week ago, will be the most prominent international leader to visit Putin since his February 2022 invasion of Ukraine.
"Xi's visit to Russia will be a journey of friendship" and deepening mutual trust, Chinese Foreign Ministry spokesman Wang Wenbin said on Friday at a regular press briefing in Beijing.
During the trip, Xi is expected to discuss China's 12-point blueprint for ending the war, a document dismissed by most Western governments. The criticism of the plan was more muted from Kyiv, which has sought talks at a leader level with China since the war broke out, while also urging Beijing to take a more critical stance against Russia.
The Kremlin confirmed the state visit, saying it was at Putin's invitation. The two leaders will discuss "developing the no-limits partnership and strategic cooperation between Russia and China," the Kremlin said in a statement.
Xi and Putin will "exchange views in the context of deepening Russo-Chinese cooperation in the international arena," it said, adding that several bilateral documents will be signed, without providing details.
This visit comes as Xi is rebooting his image as a global statesman. He already got a significant win by helping broker a deal between Saudi Arabia and Iran to restore diplomatic ties.
Soon after he returns from Russia he will host Brazilian President Luiz Inacio Lula da Silva, the Foreign Ministry in Beijing said. Xi and Ukrainian leader Volodymyr Zelenskiy also plan to speak by video link soon, in what would be their first conversation since Russia's invasion, a Ukrainian official familiar with the preparations said.
Chinese Foreign Minister Qin Gang spoke with his Ukrainian counterpart Dmytro Kuleba about bilateral ties and the invasion. Xi and President Joe Biden may also hold their first call since the crisis over an alleged spy balloon that flew over the US.
The Chinese leader needs to strike a careful balance on the visit to Russia, on the one hand seeking to project an image as a potential neutral mediator, while also managing his close ties with Putin.
"Russia's economic isolation has already benefited the Chinese economy in certain ways," said Joseph Torigian, an assistant professor at American University who researches Chinese and Russian politics.