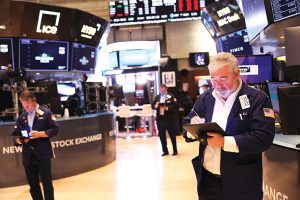 BLOOMBERG
US equity futures wavered on Tuesday as some investors questioned the sustainability of a powerful rally fueled by expectations of a Federal Reserve pivot to rate cuts.
The S&P 500 had its strongest close since August and the Nasdaq 100 hit a 22-month high November 20. But Goldman Sachs Group Inc strategists said there is a risk of "disappointment in the near term" amid lingering concerns about economic growth and inflation, while Citigroup Inc peers warned of the possibility of a short squeeze that could derail the rally.
"Despite a more certain outlook regarding peak rates and potential cuts in 2024, there are few upside catalysts," said Liberum strategist Susana Cruz. "Corporate guidance was pretty soft during this earning season, forecasts for the fourth quarter have fallen and we will probably see more downgrades. That's why we expect equities to experience a soft patch in the first half of 2024."
Contracts on the S&P 500 and Nasdaq 100 were little changed. The dollar extended its decline, while the Treasury yields edged lower after a strong 20-year auction in the previous session.
Markets are pricing in about a 30% chance of a Fed rate cut in March. Minutes of the last rate-setting meeting may provide more insights into policy makers' thinking.
"We are not expecting any major new information, but the minutes could be less dovish than the current market pricing," said Mohit Kumar, a managing director at Jefferies International. "The minutes are likely to indicate that the door is still open for another hike and emphasize that rates need to be kept on hold for longer." The Stoxx Europe 600 index was flat, hovering near a two-month high. Basic resources shares led gains after iron ore surged on optimism about China's latest economic stimulus drive. Banks and energy stocks underperformed.
Among individual movers, Banca Monte dei Paschi di Siena SpA dropped after Italy sold about 25% of its stake for approximately €920 million as part of its plan to divest from the bailed out lender. MorphoSys AG plunged after the German biotech firm announced mixed results in a trial for a drug to treat myelofibrosis. Swiss medical devices firm Sonova Holding jumped after reporting results. Meanwhile, emerging-market stocks and currencies extended gains as the weakening dollar spurred demand for risk assets. MSCI's index of developing-nation stocks climbed to the highest level in almost three months, led by technology companies, while the gauge for currencies soared to a 22-month high.
Chinese developers' bonds gained along with their shares after authorities began drafting a list of 50 real estate firms that would be eligible for a range of financing as Beijing sought to support the embattled property sector.