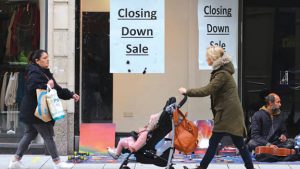 Bloomberg
British companies signaled output dropped at the fastest pace since the start of the pandemic as the government budget deficit widened to a record, adding to evidence that the economy probably has lurched into a recession.
S&P Global said its index of sentiment from purchasing managers fell more sharply than expected in January, led by a deterioration in services that had previously propped up the economy. The Office for National Statistics reported the highest ever December shortfall after soaring interest rates jacked up the cost of debt service.
The figures eat away at hopes that the UK may avoid a sharp slump. It adds to pressure on Prime Minister Rishi Sunak to come up with a growth program and defuse some of the labor and trade disputes that have brought some sectors to a standstill.
"Industrial disputes, staff shortages, export losses, the rising cost of living, and higher interest rates all meant the rate of economic decline gathered pace again," Chris Williamson, chief business economist at S&P Global Market Intelligence, said in a statement Tuesday. He said the UK is also facing "ongoing damage to the economy from longer-term structural issues such as labor shortages and trade woes linked to Brexit."
The pound dropped after the S&P release, falling as much as 0.6% to $1.2309, and UK government bonds extended gains. Traders also pared bets on the peak in the BOE's key rate, pricing in around 101 basis points of additional hikes by August versus 105 basis points at Monday's close.
"The drop in January composite PMI suggests the UK economy may have fallen into recession at the start of 2023. Taken alongside evidence of easing price pressures, we think the survey supports our view that that Bank of England is nearing the end of its hiking cycle. We see a 50-basis-point hike in February and a 25-bps move in March, after which we expect a pause."
Sunak lifted tax rates to the highest since World War II to finance energy subsidies that are cushioning households from soaring natural gas and electricity prices. The public finances figures highlight both how much money the Treasury is draining from consumers in the form of tax and the government's increasing struggle to finance health and welfare programs.
The budget deficit stood at £27.4 billion ($34 billion), a record for the month and almost triple the £10.7 billion shortfall a year earlier, the ONS said. Economists had forecast a reading of £17.3 billion.