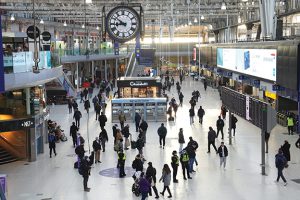 Bloomberg
UK Chancellor of the Exchequer Rishi Sunak is on track for a windfall of around 13 billion pounds ($17.5 billion) this financial year as borrowing figures for the first nine months came in well below official forecasts, despite a sharp rise in debt interest costs.
The budget deficit was 16.8 billion pounds last month, taking the shortfall from April through December to 146.8 billion pounds, the Office for National Statistics (ONS) said on Tuesday. That was 13 billion pounds below forecasts from the Office for Budget Responsibility published in October.
Budget Undershoot
The figures raise the prospect of extra cash for Sunak just as he faces demands to ease cost of living pressure on households and businesses. He is expected to unveil a multi-billion pound package of support by the Spring Statement on March 23.
The chancellor is facing calls from lawmakers in his own Conservative Party to cancel a 12 billion-pound increase in payroll tax from April, which coincides with a 50% jump in energy bills and threatens to deepen the
living standard squeeze.
"On our forecasts, the chancellor would have enough fiscal room to cancel the scheduled increase in taxes if he decided to cushion the blow to households from the energy crisis," said Bethany Beckett, UK economist at Capital Economics.
The government insists that the tax rise will go ahead as the money raised is designated for the National Health Service (NHS) and fixing a crisis in social care. Following the release of the borrowing figures, Sunak said: "Risks to the public finances, including from inflation, make it even more important that we avoid burdening future generations with high debt
repayments."
James Smith, research director at the Resolution Foundation think tank, said the extra fiscal headroom "makes it inevitable that the chancellor will set out a plan to deal with the cost of living crunch."
A "targeted package to limit the rise in energy bills is the top priority, with the majority of gains from a delayed tax increase going to the richest fifth of households," he added.
The borrowing undershoot came despite an 8.1 billion-pound debt interest bill in December, the second-highest on record, as soaring retail price inflation fed straight through to index-linked gilts. That figure is almost certain to rise, with RPI inflation in December reaching 7.5%, the most since 1991.
Rolling out the vaccine booster program cost another 2 billion pounds in December alone, according to calculations by KPMG UK senior economist Michal Stelmach.
The total increase in debt interest between April and December was 21 billion pounds compared with last year, or a rise of 69%, but tax receipts came in significantly higher as the economy bounced back from the pandemic more strongly than expected and the labour market boomed.
Higher receipts from value-added tax, corporation tax and stamp duty on property purchases have lifted government revenues by 28.6 billion pounds this year. Monthly corporation tax revenues in December were the highest on record after a jump in payments by the large companies.
Borrowing between April and November was revised down by 6 billion pounds, largely due to higher-than-expected corporation tax receipts.