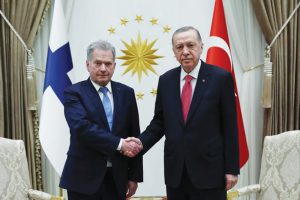 BLOOMBERG
Turkey is nearing ratification of Finland's accession into Nato, which would bring the military alliance a step closer to welcoming its 31st member as the effects of Russia's invasion of Ukraine spread across the European security landscape.
President Recep Tayyip Erdogan and Finland's head of state, Sauli Niinisto, started a meeting in Ankara without speaking to reporters. The Turkish president has said he plans to "fulfill" the promise to Finland about its bid to join the North Atlantic Treaty Organization (Nato).
Turkey's likely ratification could potentially leave Hungary as the last holdout on Finland's accession if Prime Minister Viktor Orban continues to delay a parliamentary vote. It also casts further doubt on Sweden's bid to join the defense alliance.
The US has pushed for the fast ratification of both Nordic nations' entry and most Nato allies want the northern enlargement completed by the bloc's upcoming summit in July. Hungary currently targets a vote on the Nordic entrants in late March or early April following multiple delays.
Finland's membership is set to enable the alliance to start securing the area around the Baltic Sea in defense of its Baltic members, which are often seen as potential targets of Russian aggression. Including Finland in the alliance would double the length of Natos border with Russia, which now comprises just 6% of Russia's land perimeter.
That would also enable the alliance to improve its surveillance of Russia's western flank with the help of Finland's well-trained military, which already uses weapons compatible with the alliance.