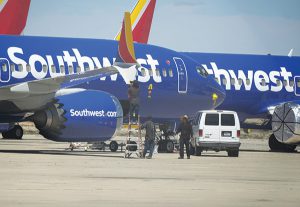 Bloomberg
Southwest Airlines Co executives are pushing back against a rising chorus of analysts who say the company's days as the airline industry's disruptive force are over, reined in by higher wages and tougher operational challenges. The carrier known for its no-frills aesthetic and competitive prices is under pressure because its model is being put to the test, 50 years after its first commercial flight.
Southwest increased starting pay to $15 an hour in August, and may have to go higher in some parts of the country to meet goals to hire thousands of workers, Chief Executive Officer Gary Kelly and his executive team said in an interview.
They also signalled their more cautious approach to rebuilding flight capacity — adopted after a more aggressive plan backfired this year — is likely to last well into 2022. Those forces have weighed on Southwest's stock, the worst performing of major US airlines this year. And some analysts are skeptical that the company can regain the profitability and efficiency that once made it the industry darling. Goldman Sachs, UBS and Jefferies downgraded the shares after Southwest's investor day, with Jefferies analyst Sheila Kahyaoglu calling it "no longer the low-cost carrier" in a research note.
The analyst "is wrong — absolutely dead wrong," Kelly said. "They are missing the point that we are perfectly positioned for the environment."
Reached via email, Kahyaoglu didn't address Kelly's remarks but referred back to her report.
Kelly, who will become executive chairman on February 1, and Bob Jordan, who will take over as CEO, outlined a plan to fill 5,000 jobs this year and 8,000 in 2022. That would help replenish a workforce depleted by 4,500 voluntary departures during the pandemic. This year's hot job market has pitted Dallas-based Southwest against Amazon.com, UPS and numerous other employers all vying for the same pool of entry-level workers.
If Southwest can get those people hired, it can offer more flights to meet growing demand, especially for an expected rebound in business travel. All the other airlines are also having to pay up for talent, but Kelly and Jordan reason that the competition can't keep up with Southwest's ability to squeeze costs out of the system, especially when it's operating at full capacity.
By that logic, investors just need to show a little patience while Southwest completes its hiring and gets back to full steam. The airline trimmed capacity this quarter to 8% below the same period in 2019. In the first quarter of 2022, that deficit will shrink to 6%. That's a change from Southwest's plans earlier in the year, when capacity was supposed to be similar to 2019 levels by this point.
For all of 2022, capacity will be down as much as 3% or up as much as 2%, the company forecasts. That implies gradual improvement over the course of the year. Recent agreements to let corporate travel departments book flights on Southwest more easily will also boost demand, and the company has new tools on the way to optimise prices, executives said.
The company expects to be profitable this quarter and all of next year, and it's eyeing a restoration of dividends and potentially share buybacks in 2023. New deliveries of Boeing Co's 737 Max will provide more seats and better fuel efficiency than the aircraft they are replacing.
The airline is projecting that unit costs, an industry gauge
of efficiency, will rise as
much as 12% in 2022 compared with 2019.