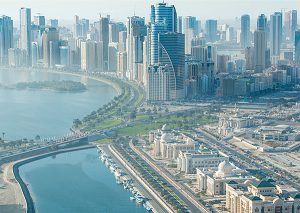 Sharjah / WAM
The semi-annual report issued by the Sharjah Real Estate Registration Department (SRERD) revealed that the value of real estate trading during the first six months of 2022 amounted to AED 11.2 billion.
The total number of sales transactions amounted to 3,327, with a total value of AED4.1 billion, of which AED3.9 billion were in the city of Sharjah alone. The sale of usufruct transactions amounted to 141 worth AED243 million, while mortgages recorded a value of AED5.3 billion. Investors from 75 different nationalities executed real estate deals during this period.
Abdulaziz Rashid Al Saleh, Director of the Sharjah Real Estate Registration Department, said, "The real estate sector in Sharjah continues to improve at an accelerating pace, taking advantage of the competitive opportunities enjoyed by investors despite any challenges, mainly due to the increase in the volume and number of transactions in the residential sector, as well as the launch of a number of major real estate development projects, which motivates investors to expand the transactions and conduct real estate deals."
, considering real estate the safest and most appropriate haven for their investments in light of the relative increase in inflation rates."
Reflecting on the first half of the year, Al Saleh pointed out that the increase in the total number of transactions executed by the (SRERD) at its headquarters and branches confirms that the sector is heading towards future growth.
Many investment opportunities coupled with a growing population are of particular interest to beneficiaries of all categories of owners, investors, brokers, and developers. This is in line with the visions of the wise leadership and the directives of HH Dr Sheikh Sultan bin Muhammad Al Qasimi, Supreme Council Member and Ruler of Sharjah, towards comprehensively promoting and harnessing the economic and social development witnessed by the emirate of Sharjah to serve citizens and residents and provide them with the best standards of living. He highlighted the importance of providing all services and infrastructure to attain this lofty government goal and pointed out that during the first half of the year, four major development real estate projects were registered, including three residential and one commercial project.