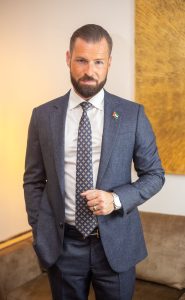 DUBAI/ GULF TIME
Romain Gerardin-Fresse, a renowned French lawyer and founder of the alliance "GFK Strategies" has set his eyes on the UAE market and beyond.
Romain has established GFK, particularly GFK Middle East, as a leading player in the vertical and horizontal concentrations of consultancy. Talking about what led him to expand to the UAE, Romain said, "I'm fascinated by the foresight of the Emirati government and by the economic dynamism that surrounds the UAE. We opened our first branch in 2019, and in 48 years, what the Emirates had managed to achieve was nothing short of breathtaking. They went 10 to 15 times faster than any newly created state. But what fascinates me even more is the ability to anticipate crises. A large part of my work involves anticipating problems and implementing solutions to prevent them from occurring."
"As we saw with the management of the Covid-19 crisis, which the nation handled masterfully, it shows that the UAE knows how to anticipate and manage a crisis. Public health policy has been robust, which is quite rare. Besides, it is also this notion of diversifying the elements of the region's attractiveness, by adapting legislation and creating major programs that enable the UAE to constantly remain at the forefront," added Romain.
To a question about GFK Middle East's UAE operations and international expansion, Romain said: "We decided to use the advantages offered by the UAE to relocate a large part of our consultancy business, which has historically been based in France and the UK. Demand from a section of our customer base interested in penetrating the local market, and more broadly from GCCs, was also growing. At the same time, it's an opportunity for us to introduce this land of opportunity to our potential clients." Romain Gerardin-Fresse explained.
Establishing its business in Dubai has proved a winning bet for the firm, which has already seen its sales increase by almost 28% in 2023. "We've witnessed remarkable advancement in the Emirates. In 2022, when many countries were in recession, the UAE's GDP grew by 7.9% in 2022, which reaffirms the robustness of the country's economic performance and its achievement of positive growth rates. Dubai, in particular, has made considerable efforts to diversify its economy with increased attractiveness in key sectors such as tourism, aviation, AI, technology, real estate and financial services, to name a few."
Romain is excited about the Dubai Economic Agenda D33. "The D33 program will enable foreign trade to increase from AED 14.2 trillion over the last decade to AED 25.6 trillion in goods and services over the next decade, and FDI to increase from an average of AED 32 billion a year over the last decade to an average of AED 60 billion a year over the next decade, reaching a total of AED 650 billion by 2033." concluded Romain.