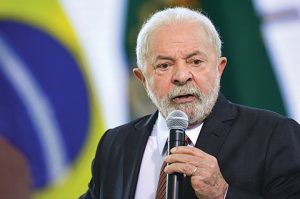 Bloomberg
Brazil President Luiz Inacio Lula da Silva defended the use of additional tools besides interest rates to rein in inflation, including a more active policy to reduce foreign exchange volatility and the regulation of fuel prices and food stocks.
In a 180-page message to lawmakers on Thursday, Lula blamed his predecessor Jair Bolsonaro for abandoning the use of "important instruments to fight inflation," leading to an over-reliance on high interest rates that are hurting the economy. He also said a more stable currency would help mitigate inflation.
"A more passive exchange rate policy in recent years has accentuated the volatility of the Brazilian currency against the dollar, with perverse consequences for prices," Lula said in the message delivered by his Chief of Staff Rui Costa at the beginning of the congressional year.
The president has been complaining about the central bank's restrictive monetary policy since taking office. In a TV interview two weeks ago, he said too tight inflation targets were "choking the economy," and said a recently-approved law giving the central bank autonomy was "nonsense." Brazil's inflation outlook further deteriorated on his comments, leading policymakers to signal that the key r ate will have to remain at the current 13.75% level for longer in order to anchor expectations.
In his message, Lula said Latin America's largest economy lost its ability to smooth out swings in prices of food and fuel when the government cut down on grain storage facilities and changed the corporate focus of state-owned Petroleo Brasileiro SA, making it more dependent on imports.
In addition, the Bolsonaro administration "abandoned sector-specific policies to induce an increase in the production of critical goods," the message read.