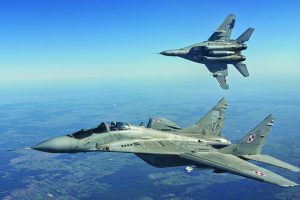 BLOOMBERG
Poland will send four Soviet-era fighter jets to Ukraine in the coming days as the nation moves ahead with deliveries to bolster Kyiv's air power, President Andrzej Duda said.
"The decision has been made" and more MiG-29 models currently under maintenance are on the way, Duda told reporters in Warsaw on Thursday. The Polish government said this week that several allies had also signaled readiness to send such aircraft, with Slovakia saying it was prepared to dispatch MiGs.
The deliveries would cross a threshold in sending firepower to Kyiv, as many western allies have drawn the line at sending fighter jets, citing the risk of being drawn into a direct confrontation with Moscow.
Ukrainian President Volodymyr Zelenskiy and his military leadership have persistently demanded warplanes since the first days of the war as essential to driving back the Russian invasion.
Those calls were renewed this year when western members of the transatlantic alliance abandoned a political taboo and pledged battle tanks to Kyiv, raising speculation that fighter jets would be the next barrier to fall.
Duda said Poland received the aircraft from East Germany. The planes — a dozen or more at the end of their technical lifespan — will now strengthen Ukraine's fleet of Soviet-era jets. MiG deliveries won't jeopardise Poland's security as the nation's air force upgrades to Korean FA-50 and US-made F-35 combat jets, the president said.