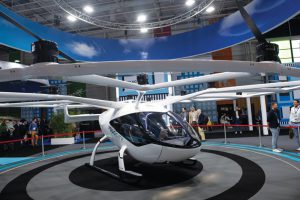 BLOOMBERG
A plan to whisk passengers around Paris in air taxis during the Olympic games next year faces a new challenge after manufacturer Volocopter GmbH said the advanced electric motors it needs for its two-seater craft have been delayed.
Volocopter is working with the engine maker and continues test flights with other, less-refined motors as it seeks to obtain regulatory certification for commercial flights ahead of the Paris Olympics in July 2024, Chief Executive Officer Dirk Hoke said in an interview at an event in the French capital. He declined to identify the engine supplier.
"The first motors we are supposed to fly with are delayed, but we will find a way to catch up," Hoke said.
A successful launch of passenger service in Paris would hand the German air-taxi pioneer an advantage over US rivals including Joby Aviation Inc and Archer Aviation Inc Volocopter, backed by airport operator Aeroports de Paris SA, has said it plans to fly five of its VoloCity craft at the games — guaranteeing the company a global audience for the debut of its futuristic flying machines.
Volocopter is also in talks with state investment bank Bpifrance and other potential investors to raise over €200 million ($210 million) to help fund a second plant in France, Hoke said.
Olympic Deadline
While the Olympic flying routes are already approved by French aviation authority DGAC, the delay in producing the motors could make it even harder to get European Union Aviation Safety Agency certification in time to meet its goal. The VoloCity has 18 motors, each of them weighing less than 8 kilos, and they are "very sophisticated," Hoke said.
"The best-case scenario is, we will fly with a commercial operation, and the fallback is that we fly with a special permit" from EASA at the Olympics, Hoke said.
The kind of services allowed by such a permit would depend on how far the company is in the certification process, Hoke said. Potentially, VoloCity cabs could fly some non-paying passengers at the Olympics under certain conditions, he said.
While he's certain commercial certification will come next year, "which month, I cannot tell you," Hoke said. "I am still confident."
EASA is working with Volocopter but won't comment on progress toward its certification timeline, which "very much lies with the applicant," Janet Northcote, a spokeswoman for the agency, said in an email.
Bpifrance didn't immediately respond to requests for comment. ADP declined to comment.
Among the routes Volocopter plans to offer are a connection between the city center and the Saint-Cyr aerodrome near Versailles, whose palace will host some Olympic competitions, and another between Le Bourget airfield, a popular private-plane hub, and the city's main Charles de Gaulle airport, typically a 20-25 minute taxi-ride away.
The new plant in France would further Volocopter's production capacity, which stands at 50 VoloCity craft a year at its German facility, said Hoke, a former Airbus SE executive.