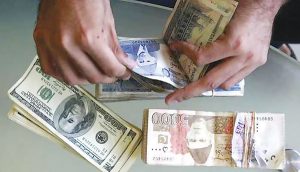 Bloomberg
Pakistan's money exchange companies will let the currency drop slowly in the open market after deciding to abolish the limit on the dollar-rupee rate.
The Exchange Companies Association of Pakistan (ECAP) has informed the central bank of its decision to remove the limit, President Malik Bostan said in a phone interview. The group had earlier voluntarily decided to cap the dollar-rupee rate to help ease pressure on the currency.
The decision to remove the cap will curb the black market, where dollars are being sold at about 10% more than the advertised rates, and bring back the supply of the greenback at money changers. A more market-determined currency may also help Pakistan secure more money from the International Monetary Fund (IMF), whose disbursement of loans to the
nation has seen multiple delays.
The association also requested the State Bank of Pakistan to help with increasing the supply of dollars to money changers, Bostan said.
rupee slumps to record
Pakistan's currency tumbled to a record low as the crisis-stricken government relaxed its grip to win much-needed loans from the IMF.
The rupee slid as low as 242.25 to the greenback, surpassing the previous all-time trough of 240.375 set in July.
Dollar-strapped nations seeking aid from the IMF are facing growing pressure to allow market forces to play a greater role in setting their exchange rates. While Pakistan won a bailout last year, the IMF has delayed the release of funds and the nation is battling to keep its economy afloat as power outages, dollar shortages, and political tensions threaten to sink the
nation deeper into crisis.