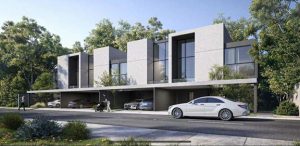 Dubai / Gulf Time
Tabani Real Estate, a leading real estate company in Dubai, is proud to announce that it will be organising a grand real estate event in collaboration with Arada to launch the Jouri Hills Villas project in Dubai. The event is scheduled to take place on February 25, 2023, at the JGE Head Office in Arada Jumeirah Golf Estate from 10am to 7pm.
As reported by the event organiser, Talal Kurdi, the expert and real estate Manager for Tabani Real Estate in Dubai, the opening ceremony of the event will be attended by VIP, business men and women, social media influencers, and members of the press. In addition, attendees will have the opportunity to see the luxury Harley motors exhibition.
"We are thrilled to collaborate with Arada to launch the Jouri Hills Villas in Dubai. This is a great opportunity to provide our customers with luxurious and innovative properties in a prime location," said Talal Al Kurdi, a leading real estate expert and consultant at Tabani. "Tabani Real Estate has a proven track record of successful projects in the UAE, and our partnership with Arada will only strengthen our capabilities to deliver exceptional results. We believe that this event will be a huge success and we welcome all interested individuals to join us to explore the Jouri Hills Villas."
Jouri Hills is Arada's first project in Dubai, a luxury villa collection located in the Jumeirah Golf Estates, one of Dubai's most sought-after residential and leisure communities. The collection contains 294 high-end homes close to two world-class golf courses, providing a unique lifestyle experience that combines modern, nature-inspired designs and world-class amenities. The community features homes ranging from three-bedroom townhouses to six-bedroom mansions, and all feature contemporary architecture that maximises natural light. The detached villas have swimming pools as standard, while the most luxurious homes have more than 14,000 square feet of space spread across four floors.
This event is an opportunity to experience Jouri Hills at Jumeirah Golf Estates and to learn more about the collaborative relationship between Tabani Real Estate and Arada. Interested parties can witness firsthand the exceptional quality and design for which Arada communities have become well-known. This event marks Arada's entry into the high-demand Dubai property market, and the company has further plans to take advantage of the strong performance of the local sector.
The launch of Jouri Hills is a significant development for both companies, and it represents an opportunity for interested parties to invest in one of Dubai's most desirable locations. The event will be the perfect opportunity for people interested in real estate and business to explore the Jouri Hills Villas project and experience the luxury lifestyle it has to offer firsthand. We welcome everyone to join us at the event and witness the launch of this magnificent project.