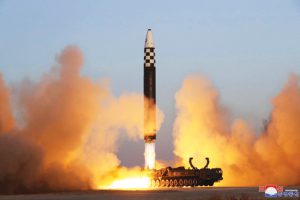 BLOOMBERG
North Korea launched the most powerful ballistic missile in its arsenal just before a summit between Japan and South Korea, with leader Kim Jong Un saying he wanted to "strike fear into the enemies," its state media said.
Kim was on hand with his preteen daughter to watch the launch of the Hwasong-17 intercontinental ballistic missile. The test was prompted by "the frantic, provocative and aggressive large-scale war drills conducted by the US and the South Korean puppet traitors," it's official Korean Central News Agency reported on Friday. It almost never calls its neighbour by its proper name.
The launch of what weapons experts consider to be the world's largest road-worthy ICBM came hours before South Korean President Yoon Suk Yeol went to Japan for a rare summit with Prime Minister Fumio Kishida to discuss ways to mend differences and cooperate with their mutual US ally to counter the nuclear threats made by the likes of Kim's regime.
The US and South Korea this week started some of their largest joint military exercises in years. North Korea has pledged an unprecedented response to the drills, with the influential sister of the leader Kim Yo Jong threatening to turn the Pacific Ocean into a "firing range."
The ICBM caps a busy few weeks for North Korea, which had already shot off 11 ballistic missiles since February 18 that included another ICBM and what appeared to be a new close-range ballistic missile designed to hit US bases in South Korea. The tests also included two cruise missiles fired from a submarine, which appeared to be another first.
The ICBM fired on March 16 reached an altitude of about 6,000 kilometers (3,730 miles) and travelled a distance of about 1,000 kms on a flight that lasted some 70 minutes before landing outside of Japan's exclusive economic zone, the Ministry of Defense in Tokyo said. KCNA released similar details on the flight path in its dispatch.
The Hwasong-17 is the newest ICBM that North Korea has test-fired and it's designed to carry a multiple nuclear warhead payload to the US, weapons experts have said.
Kim has given an indication of what might be coming next by parading canisters through the streets of Pyongyang in February of a new solid-fuel ICBM that would be quicker to deploy than his current liquid-fuel rockets — giving the US and its allies less time to ready their defenses.
Kim's daughter made her debut in state media at an ICBM launch in November. Since then, she has been dubbed the precious child by state media and been at her father's side for various events. Her presence signals there is another generation waiting in the wings to lead the family dynasty forged in the Cold War and it will depend on nuclear weapons for its survival.