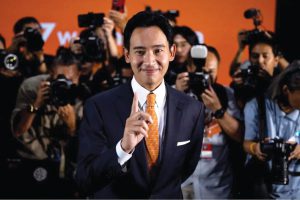 BLOOMBERG
The bid of Pita Limjaroenrat, leader of Thailand's opposition group Move Forward, to form a coalition government hit a setback when a key political party said it won't back a prime minister who wants to relax the law against criticising the monarchy.
The Bhumjaithai Party, which came in third in the vote with about 70 seats in the 500-member House of Representatives, said that it would rather stand in the opposition than be part of a coalition led by a party that wants to amend Article 112. That's Thailand's "lese majeste" law that can put offenders in jail for as many as 15 years if convicted of royal insults.
"This is Bhumjaithai's core principle that cannot be changed or negotiated," the party said in a statement posted on Facebook. "Bhumjaithai cannot vote for a prime minister candidate of a party that has a proposal to amend or abolish Article 112."
The issue is proving to be a roadblock in Move Forward's bid to form a government after it stunned the nation by winning parliamentary election. Earlier this week, Thaksin Shinawatra also sought to distance his family from the push of Pita's party to "lese majeste" even as Pheu Thai party which the former premier backs had agreed to join hands with Move Forward.
The 42-year-old Harvard-educated Pita is seeking 376 votes in the lower house to bypass the military-appointed senate for him to become Thailand's 30th premier. The coalition said it has secured about 310 seats so far, which means the 70 held by Bhumjaithai could prove pivotal.
Anutin Charnvirakul, the leader and prime minister candidate of Bhumjaithai, played kingmaker after the 2019 election before eventually siding with the military-backed Palang Pracharath and securing ministry positions for his party.