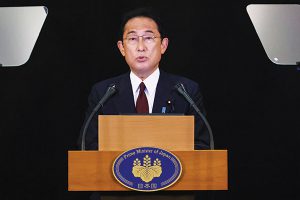 Bloomberg
Prime Minister Fumio Kishida said he would consider an invitation extended by President Volodymyr Zelenskiy to visit Ukraine, as Japan's ruling party No. 2 publicly urged the premier to go ahead with the trip.
Kishida told lawmakers Wednesday a decision would be based on the circumstances. Liberal Democratic Party Secretary General Toshimitsu Motegi told parliament it would be desirable for Kishida to go ahead with the visit.
Kishida was invited by Zelenskiy when they spoke earlier this month. The premier has said he plans to strengthen coordination in support of Ukraine when Japan hosts the Group of Seven summit in May. But Japan and the US are the only two countries among the group whose leaders have not made the visit.
Japan threw its support behind Ukraine following Russia's full-scale invasion, imposing sanctions and sending military equipment, albeit nonlethal, in a break with the traditions it has maintained under its pacifist constitution. Japan generally avoids having its leaders visit dangerous places, so a trip would be one of its strongest public displays of support for Ukraine. Tokyo has, however, retained energy ties to Russia.
Kishida's comments on Ukraine came a day after top government spokesman Hirokazu Matsuno urged people not to visit for any reason, in line with government policy. Matsuno was asked about a trip by 82-year-old Dewi Sukarno, one of the wives of former Indonesian president Sukarno and a celebrity in Japan, who made the journey to deliver winter clothes and diapers, local media said.