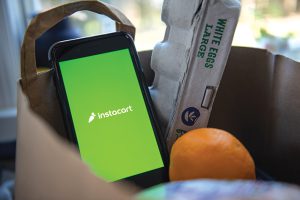 BLOOMBERG
Instacart joined chip designer Arm Holdings Ltd in moving ahead with an initial public offering, adding momentum to a return of high-profile listings. The largest US online grocery delivery company disclosed in its filing with the US Securities and Exchange Commission that PepsiCo will buy $175 million in preferred convertible stock. The company also revealed it turned a profit in the first half the the year.
Instacart, which is incorporated as Maplebear Inc and filed under that name, won't disclose a proposed price and size for its share sale until later filings. The listing could further energise an IPO market that has been warming in fits and starts. Semiconductor designer Arm, majority owned by SoftBank Group Corp, filed for what promises to be the year's biggest IPO, which is expected in September.
Marketing and data automation provider Klaviyo filed for an IPO and footwear maker Birkenstock is also gearing up, Bloomberg News has reported. Behind them are dozens of startups whose IPO aspirations have been stymied by the slowest year at this point for new listings since the depths of the financial crisis in 2009.
Founded in 2012, Instacart has been preparing to go public for years, hoping to capitalise on its surging popularity during the coronavirus pandemic as online shopping for groceries became the norm and, in some cases, a necessity. Instacart raised $2.74 billion as a startup and was valued at $39 billion in 2021, according to data provider PitchBook. But as the pandemic waned and diners began to emerge from lockdowns and return to restaurants and wandering the aisles at grocery stores, Instacart's growth faded too, forcing the company to slash its internal valuation three times in 2022 to about $13 billion by last October.
The company's largest investors include Sequoia Capital and D1 Capital Partners, according to the filing.  Other investors have included Tiger Global Management and Coatue Management, according to PitchBook. Instacart CEO Fidji Simo, a Facebook product veteran, took over from co-founder Apoorva Mehta two years ago and has helped Instacart move beyond grocery delivery to focus more on behind-the-scenes technology, taking advantage of the voluminous amount of consumer data it collects to help grocery stores sell more. Simo has reconfigured Instacart's business model and fleshed out the company's portfolio of products that it can sell to grocers, from analytics software to fulfillment services, promises of 15-minute delivery and advertising platforms.