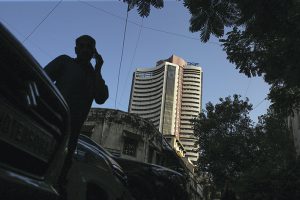 BLOOMBERG
Indian equities will likely receive a net inflow of $1.5 billion after changes by MSCI Inc is set to boost the nation's representation in its developing markets gauge to a record, according to Nuvama Wealth Management Ltd.
Nine stocks, including IndusInd Bank Ltd and wind-turbine maker Suzlon Energy Ltd, will be added to MSCI's global standard gauge on November 30. Post changes, India will have 131 companies in the MSCI Emerging Markets Index, and the nation's weight will reach an all-time high of 16.3%, analyst Abhilash Pagaria wrote in a note.
India's representation in the EM index has more than doubled from the depths of the pandemic in March 2020, underscoring its appeal as one of the world's fastest-growing economies with potential for solid earnings growth. The nation's weighting in the MSCI Asia Pacific Index — the index provider's regional benchmark — will surpass China over the next five years, Morgan Stanley's equity strategist Jonathan Garner said in a session with clients.
"India's weight had to go up, its quite natural," said Rakhi Prasad, an investment manager with Alder Capital. "From macro perspective, India is on a better footing compared with other emerging markets and interest from India-specific allocation is on the rise." Global funds have plowed more than $12 billion into Indian equities so far in 2023, the highest among emerging Asia.
Investor demand in the world's most populous country has also increased as slowing economic growth in China weighed on sentiment there. The MSCI China Index has lost about 9% so far 2023, set for its third year of losses, dragged down by the country's slowing economic growth and geopolitical headwinds. In comparison, the MSCI India gauge is set for its fifth annual advance. China has the highest weight at 27% in the MSCI's EM gauge, followed by India at 16% and Taiwan at 15%, the data show.