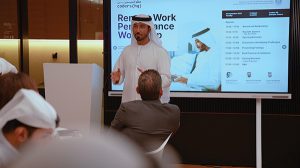 DUBAI / WAM
The office of the Minister of State for Artificial intelligence, Digital Economy and Remote Work Applications organised the "Inspiring solutions to
developing Remote Work Performance" workshop at the CodersHQ, one of the national programmes for Coders initiatives, aiming to share best practices on workload distribution by teams.
The workshop discussed best practices in design
effective mechanisms of performance monitoring when applied to a significant number of employees, and best practices innovate a flexible plan to evaluate remote work in the administrational and non-operational occupations.
Directors, managers, and human resources employees from government entities and global companies including; Federal Authority for Government Human Resources, Majid Al Futtaim Group, Microsoft, Zoom, Dell, Deel, Talabat, and Amazon
attended the workshop; enabling them to identify challenges with leading platforms in technology, inspire to design remote work solutions and support the continuance of the work systems.
Saqr Bin Ghalib, Executive Director at the Minister of State for Artificial intelligence, Digital Economy and Remote Work Applications Office, stated that remote work
concepts is a new future
approach that requires cooperation and involving government entities as well as private sectors globally, to collaborate and design proactive solutions tackling challenges arising in remote work applications when deployed on the entity and employee stages to achieve flexibility in work systems and keeping up with competitiveness and productivity. He added that Remote work is the leading supporter of accomplishing digital transformation in government systems and private sectors in a secure digital environment. The workshop is an effective tool in developing a flexible system that adopts advanced work performance and ensures employees' well-being.
Bin Ghalib pointed out that these discussions that allow entities and global companies to share their experience, ideas, and challenges enable a positive change in remote work systems and build a leading national model that enhances readiness for future approaches.