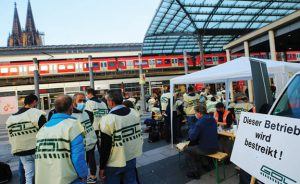 Bloomberg
Germany needs to attract about 400,000 foreign workers per year to mitigate the economic impact of its aging society, according to the caucus leader of the country's FDP party.
"The shortage of skilled workers is now so serious that it is dramatically slowing down our economy," Christian Duerr said in an interview with WirtschaftsWoche. "We can only get the aging labour market under control with a modern immigration policy."
Duerr's FDP is part of the three-way coalition that took office late last year, and is pushing a revamped immigration strategy as one of its flagship projects. Germany's population is one of the oldest in the world, and nearly a quarter is expected to be above 67 years old by the end of this decade.
A recent study by the Cologne Institute for Economic Research highlighted the importance of migrant workers for the economy. A significant share of those who are already in Germany are active in fields that face labour shortages, such as truck drivers and nurses, the researchers said.
Meanwhile, Germany's Finance Minister Christian Lindner wants to implement a planned global minimum tax of 15% for multinationals as early as January 2023, WirtschaftsWoche reports, citing the ministry.
According to the German business news magazine, tax officials from the federal and state governments held initial talks this month, with the aim of drafting a law. Germany will then wait for a corresponding European Union directive.
The taxation deal, agreed by around 140 countries last year, would work by creating a top-up levy that governments apply when profits of a multinational company in another jurisdiction are effectively taxed at less than 15%.
The president of the Association of German Chambers of Industry and Commerce, Peter Adrian, called for a fair implementation of the levy. "Only if the new minimum tax is levied everywhere can a level playing field emerge, and only then will our companies in this country not be disadvantaged," Adrian told WirtschaftsWoche.