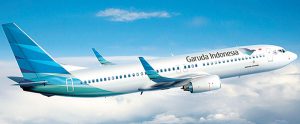 Bloomberg
PT Garuda Indonesia is entering a court-supervised debt restructuring process after a Jakarta court accepted a debt petition filed against the airline in a test of how far Indonesia's government will go to rescue a state-owned company.
Garuda amassed $9.8 billion in debt and judges in the Central Jakarta Commercial Court accepted a petition to suspend debt payments to its creditors. The move potentially paves the way to cut liabilities to $3.7 billion and allow the flag carrier to renegotiate leasing terms or return planes to aircraft lessors with the smallest penalties possible.
The judges ruled that PT Mitra Buana Koorporindo, an IT company hired by the airline to procure equipment and manage services, was able to prove that Garuda owed them 4.2 billion rupiah ($293,000), that the carrier has liabilities to more than one creditor, has unpaid debt and is likely unable to pay its debt.
The court will hold a further hearing after the 45-day window to negotiate with creditors on January 24. The process could be extended to 270 days if the state-owned airline and its creditors need more time.
"Garuda will communicate its restructuring scheme to all creditors," President Director Irfan Setiaputra told reporters after the ruling. He said future negotiations will be legally protected and that he is optimistic that the talks will have a positive outcome. Garuda's fate is of national importance, given its role as a key carrier of people and cargo between 69 destinations in Indonesia, the world's largest archipelago. The fact that its equity is 60.5% held by Indonesia's government means parliament would need to approve big corporate changes.
Even before the pandemic decimated the global airline industry, Garuda had been struggling to stay profitable. The impact of corruption in the procurement of aircraft and engines, aggressive fleet expansion and high costs have contributed to annual net losses since 2017.
Between 2014 and 2019, Garuda's ratio of aircraft rental costs to revenue was the highest among global airlines, data compiled by Bloomberg show. Last year, as its revenue plunged 67%, the carrier spent nearly 28% of the revenue on fuel, the highest share among full-service carriers in Asia Pacific.
First signs of trouble appeared in early 2020 when Garuda hired advisers to help it stay in business amid concerns that it might not be able to repay interest on a $500 million sukuk.
Investors will keep a close eye on any agreement worked out by Garuda and the creditors after the court-mandated restructuring.