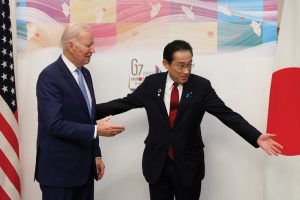 BLOOMBERG
US President Joe Biden and other Group of Seven (G-7) leaders began arriving in the Japanese city of Hiroshima for an annual summit, with concerns around China and Russia  — both uninvited — set to dominate discussions.
The meeting, which runs through Sunday, comes as Russia launched fresh aerial assaults on Ukraine and Chinese President Xi Jinping attended a separate summit seeking to deepen Beijing's influence in Central Asia. Biden held talks with Japanese Prime Minister Fumio Kishida where they pledged to protect the rule of law and said the world was safer when the two allies stood together.
The seven countries — Japan, Canada, France, Germany, Italy, the UK and US — are set to target what they see as economic coercion by Xi's government while also introducing measures to reach out to developing nations in the Global South. Leaders from the European Union, India, Indonesia, South Korea, Vietnam, Brazil, Australia, Comoros and Cook Islands were also invited to the gathering.
Prime Minister Kishida and President Biden agreed to work closely together on China, but also underscored the importance of cooperating with China on shared challenges, Japan's Foreign Ministry said in a statement.
The two also commended their countries' robust consultations on US extended deterrence, referring to the "nuclear umbrella" on which Japan relies heavily for its defense.
US National Security Council spokesman John Kirby said Biden and his G-7 counterparts will spend a considerable amount of time discussing China. "You're going to see the G-7 leaders all speak with one voice about the challenges that China poses here in the Indo-Pacific and around the world," he told Bloomberg Television.