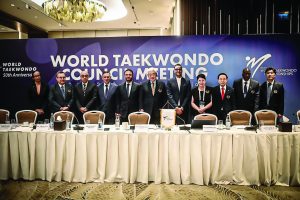 FUJAIRAH / WAM
The International Taekwondo Federation's (ITF) Executive Board in a meeting in the Azerbaijani capital, Baku, on Sunday, chaired by International Taekwon-Do Federation (ITF) President, Dr Chungwon Choue, announcing that the emirate of Fujairah will be hosting the 2025 World Juniors Taekwondo Championships.
Moreover, the board revealed that Ouchi City in China would host the World Senior Taekwondo Championships.
Dr Ahmed Al Zeyoudi, Chairman of the UAE Taekwondo Federation, said, "The directives and vision of HH Sheikh Hamad bin Mohammed Al Sharqi, Supreme Council Member and Ruler of Fujairah, and the continuous support of HH Sheikh Mohammed bin Hamad Al Sharqi, Crown Prince of Fujairah, Honorary President of the UAE Taekwondo Federation, and their generous patronage are the engines driving the advancement of the sports sector in the emirate and setting the stage for remarkable achievements across all fields, especially martial arts."
"Hosting this tournament reflects the confidence that the ITF has in the UAE leadership and the Emirate of Fujairah to organise a sporting event of this scale," Al Zeyoudi added. "We are committed to making all the necessary arrangements and preparations to organise this tournament according to the best standards."
Dr Al Zeyoudi thanked the UAE ambassador to Azerbaijan, Mohamed Murad Al Balushi, and members of the embassy in Baku.
The emirate of Fujairah has established an admirable position and is a premier destination for martial arts, well known especially for its Taekwon-Do rings and stadiums that meet the highest ITF standards.
Apart from Dr Al Zeyoudi, the meeting was attended by Abdullah Al Samahi, Secretary-General of the UAE Taekwondo Federation, and Nader Abu Shawish, Director of the Fujairah Martial Arts Club.