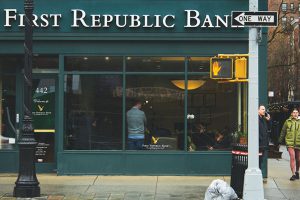 BLOOMBERG
First Republic Bank shares fell again on Friday, set for their worst week ever, as sentiment around the lender remained fragile even after proposals for $30 billion of aid from Wall Street's biggest banks.
Shares in First Republic fell as much as 15% in US premarket trading, underperforming fellow regional banks, having already fallen by a record 60% so far. The losses follow a volatile session, when the stock plunged as much as 36% before ending the day with a 10% gain, after the biggest banks on Wall Street, including JPMorgan Chase & Co, Bank of America Corp, Citigroup and Wells Fargo & Co, pledged $30 billion of fresh cash for the lender.
However First Republic shares resumed their slide post-market, after it disclosed that its borrowings from the US Federal Reserve varied from $20 billion to $109 billion from March 10 to March 15.
Other regional banks were mixed, with PacWest Bancorp falling 2% in premarket trading, while Western Alliance Bancorp reversed earlier losses to trade 2.7% higher.
Some investors questioned the move to aid First Republic. Pershing Square's Bill Ackman for instance, said in a tweet that spreading the risk of financial contagion to achieve "a false sense of confidence" in the lender was "bad policy."
Analysts also had concerns. Piper Sandler & Co's Andrew Liesch said that, while the infusion should help assuage investor concerns, First Republic's earnings power could take a hit going forward, given that the fresh funds are being added at market rates.