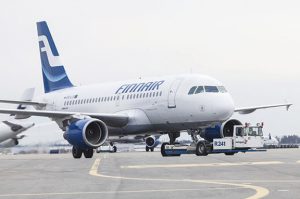 Bloomberg
Finnair Oyj will stop selling amenity kits, and other popular Finnish products on board its aircraft by the end of the month, reacting to slowing demand for in-flight shopping.
The move has the added benefit of reducing the overall weight of the aircraft, Finnair said, at a time when carriers are seeking to cut their fuel bills. In-flight sales will end on February 28, though passengers can still pre-order goods that will be delivered until April 18, the airline said in a statement.
As part of the phase-out, Finnair is offering a 40% closing-down sale on some items until the service ends. Finnair will continue to sell food and beverage on board, it said.
The carrier has seen its business model come under pressure in the past year after the closing down of Russian airspace in the wake of the Ukraine war added extra hours and fuel cost to its popular Asian routes.
In-flight sales are a legacy of the glory days of flying when airlines offered significant discounts on cigarettes, perfume and other items. Online shopping as well as duty-free outlets at airports have dented the appeal of the vast catalogues of products that airlines offered customers, even as carriers such as Ryanair Holdings Plc say that ancillary revenue, which includes in-flight duty-free sales, made up as much as 45% of its total revenue in 2022.