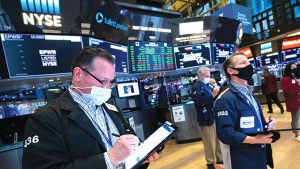 Bloomberg
Stocks in Europe advanced along with US equity futures as traders evaluated the resilience of the global recovery to a record spike in coronavirus cases.
The Stoxx Europe 600 index nudged closer to last month's record high, with utilities and car makers leading the advance as all industry sectors gained. Contracts on the S&P 500 and Nasdaq 100 fluctuated before turning higher following the S&P 500's 69th record close this year. The US 10-year Treasury yield and the dollar were little changed. Oil held near a one-month peak, while iron ore futures extended a decline after data showed softening Chinese steel output.
A tidal wave of omicron infections took global Covid-19 cases to a daily all-time high on Monday. The surge has disrupted global reopening and could squeeze hospitals. At the same time, investors are taking comfort from studies suggesting omicron, while highly contagious, causes less severe illness.
Global shares are on course for a third year of double-digit returns, powered by the US surge. The climb has overcome coronavirus waves and a shift by some key central banks towards tighter monetary policy to fight high inflation. Concerns remain that those variables could spur heightened volatility.
"The remedies that we put in place to counter the Covid recessions, they were so substantial, we had massive stimulus," Sandip Bhagat, chief investment officer of Whittier Trust, said on Bloomberg Television. "We'll be left with a legacy of those policy responses well into the future" and stocks can continue advancing, he said.
Most Asian stocks rise, but a Hong Kong technology gauge missed out as tightening oversight of overseas share sales by Chinese authorities provided a reminder of Beijing's regulatory zeal. Volumes were lower than average in some markets due to the holiday season.
The latest escalation in Beijing's wider regulatory clampdown on private industry casts more doubt over the prospects for overseas initial public offerings, which had proceeded virtually unchecked for two decades.
Meanwhile, the People's Bank of China — which on the weekend vowed more economic support — boosted a short-term liquidity injection.
In cryptocurrencies, Bitcoin gave up a recent advance to slide below the $50,000 level, suggesting investors in the riskiest corners of global markets are becoming more circumspect.