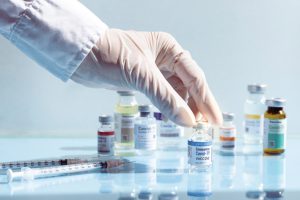 BLOOMBERG
The European Union (EU) reached a deal with Pfizer Inc and BioNTech SE to scale back purchases of Covid-19 vaccines by about a third after some member states said they were reluctant to pay for new deliveries amid an oversupply of shots after the pandemic started to wane.
The amended supply contract takes into account the improved epidemiological situation, while continuing to ensure access to the latest available version of the vaccine should new variants of concern emerge, the European Commission, the 27-nation EU's executive arm, announced. The new pact also foresees a reduction in the quantity of doses purchased by EU member states under the contract, the commission said. The cut in volume will be about 35%.
Following payment of a fee, originally contracted doses will be converted into optional orders, while the time in which countries will be able to take delivery of the vaccines has also been extended to four years from now, the commission said.
"The amended agreement reflects the companies' commitment to working collaboratively to help address ongoing public health needs, while respecting the principles of the original agreement," Pfizer said in a separate statement.
As of March this year, the World Health Organization (WHO) recommends getting vaccinated and staying up to date with booster doses generally as a way of preventing Covid and post-acute conditions.