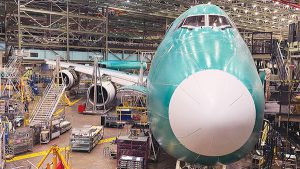 Bloomberg
The first and final 747 jumbo jet models both started with a handshake deal.
Back in the mid-1960s, the leaders of Boeing Co. and PanAm came to an agreement that if the US planemaker pushed ahead with the audacious new design, the airline would in turn go ahead and buy the giant jetliner.
That gentleman's agreement would kick-start one of the most successful programs in civil aviation, singlehandedly transforming the way the world flies and giving the Queen of the Skies, as the 747 came to be known, the undisputed reign over the world's flight paths for decades to come.
No other airplane captured the public imagination quite like the hump-backed jumbo jet, nor illustrated the rewards that can flow from breathtaking risk on developing a new aircraft from the ground up. The 747 was an emblem of era when US innovation was defined by pushing technical boundaries with moonshot projects like the Saturn V rocket — another Boeing effort.
A team led by Boeing engineer Joe Sutter designed and built the jumbo in less than two-and-a-half years, an unimaginable feat by today's standards. They trailblazed concepts that forever changed long-distance travel: from the 747's twin-aisle layout to overhead bins and inflight entertainment. Early models redefined luxury travel with a spiral staircase to a swanky upper-deck lounge.
Now, following a 54-year run, Boeing has ended production of the 747. When the last of the jets flies away from its Seattle-area factory on February 1, the curtain will fall on the four-engine era, after Airbus already gave up its ill-fated attempt at a rival jetliner. It axed the A380 double decker in 2019.
In total, Boeing built 1,574 of the 747 model, from passenger versions to freighters to special editions like a Nasa-commissioned version that carried the Space Shuttle or the Air Force One for US presidents. Over the past decade, the giant aircraft was eclipsed by smaller, more nimble models like Boeing's own 777 or Airbus SE's A350 that only have two engines but still manage to fly the same routes, albeit at much lower
operating costs.
No other aircraft encapsulates the approach quite like the A320 and 737 Max models, which are essentially more fuel-efficient versions of planes conceived decades ago and account for the vast majority of deliveries — and profit — and both planemakers.
The last iteration of the 747 also owed its existence to a handshake. This time, it happened at a dinner at Seattle's upscale Fairmont Hotel in the mid-2000s where Deutsche Lufthansa AG executives were pressing their Boeing counterparts to upgrade the 747 with technology being created for its most advanced jet, the 787 Dreamliner. Listening with rapt attention: Joe Sutter, the legendary father of the 747, then well into his 80s and long retired but still a force to be reckoned with inside Boeing.
"He turned to his senior management leadership team and said, 'Guys, just do it,'" recalled Nico Buchholz, at the time a Lufthansa executive who attended the gathering. "As history has shown, they did it and Lufthansa did buy it."
And while the 747-8, as that iteration was dubbed, wasn't a resounding sales success, freighter versions of that plane could still be flying as late as the 2050s, like the final model being delivered this week, to Atlas Air Worldwide Holdings Inc.
Aviation's advancements, from the 747 to the Concorde to the Space Shuttle, had long been driven by the goal of going further, faster and higher. But over time, another consideration has come into play: cost.
Airbus's debacle with the A380, arguably the last time a manufacturer penned a radical new design layout, only strengthened a new mantra of finessing and improving existing airframes rather than pushing the boundaries of what's physically and economically possible. Boeing has said that it won't come up with a new aircraft design this decade, underscoring a management ethos that puts efficiency before experiments.
No other aircraft encapsulates that approach quite like the A320 and 737 Max models, which are essentially more fuel-efficient versions of planes conceived decades ago and account for the vast majority of deliveries — and profit — and both planemakers.
That low-risk mindset notwithstanding, a new wave of innovation is beginning taking shape, driven by climate change and an urgent need to curb emissions. Boeing plans to build and test-fly with Nasa a full-scale prototype of a narrowbody jet with extra-long, thin wings that could eventually succeed the 737, while Airbus pursues breakthroughs with fuels, like hydrogen. Upstarts like Joby Aviation Inc. and Archer Aviation Inc. are looking to replace ground transport with flying taxis.
"There will be significant improvements," said Buchholz. Only this time, "it will start with small aircraft."