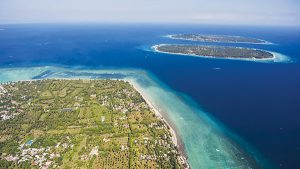 Bloomberg
With its gleaming offices, electric buses and economically productive residents, Nusantara is the quintessential modern metropolis—smack in the middle of a vast rainforest.
At least, that's what the
government brochures depict. What they don't show quite so clearly is where Indonesia will find $34 billion to build a new capital city from scratch.
With just 18 months left in his final term, President Joko Widodo is still aggressively courting international investors to finance 80% of a project that he hopes will elevate Indonesia's economy, resettle millions of
people from rapidly sinking Jakarta—and cement his own legacy.
Hosting this year's Group of 20 summit was just the latest opportunity for the president, popularly known as Jokowi, to pitch the ambitious project.
But more than three years after Nusantara was first announced, not one foreign party—state-backed or private—has entered into a binding contract to fund the project, according to people familiar with the matter. While some potential investors have signed letters of intent, the people said, there's no firm commitment to actual spending.
Jokowi is determined to see the project through, but the situation has left him impatient and worried, said the people, who declined to be named as discussions are private.
When asked for comments, the president's spokesperson referred to a speech, where Jokowi said that interest in investing in the new capital's core area was
25 times oversubscribed. However, the speech didn't specify whether binding contracts have been signed.
Indonesia needs a way to safeguard its economic growth. But without significant investment, the president's vision will fall apart.
"Foreign investors are super cautious as the project is still at the initial stage," said Dedi Dinarto, lead Indonesia analyst at strategic business advisory firm Global Counsel.
Indonesia must also battle its long-standing reputation as an economic underachiever. Despite abundant supplies of coal, metals, palm oil and rubber, the Southeast Asian nation's growth rate—averaging 4.3% over the past decade—lags behind neighbours like Vietnam and the Philippines.
The Indonesian president has ordered his cabinet to complete existing infrastructure projects by 2024, and to prioritise permits for strategically important efforts like Nusantara.