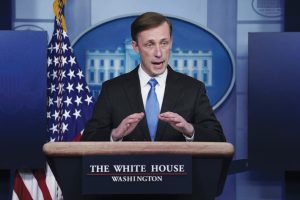 BLOOMBERG
White House National Security Advisor Jake Sullivan spoke with China's top diplomat Wang Yi, people familiar with the matter said, as the two sides look to ease tensions that have continued to build in recent months.
Sullivan's previously unreported call took ahead of Taiwan's President Tsai Ing-wen scheduled visit to the US en route to Central America, a trip that's likely to further inflame Beijing's ire. In a sign of the fraught state of US-China ties, neither side opted to publicize the call between Sullivan and Wang.
A spokesperson for the White House didn't immediately respond to a request for comment. When asked at a regular press briefing in Beijing to confirm whether Sullivan and Wang talked, Chinese Foreign Ministry spokeswoman Mao Ning said she didn't have anything to share.
The official contact also comes as the Biden administration is looking to arrange a phone call between President Joe Biden and China's President Xi Jinping. US officials had hoped that would have taken place by now, but China has so far rebuffed efforts to arrange a conversation and the Biden administration now expects it won't occur until Tsai returns home early next month.
In recent years, relations between the two countries have deteriorated as the the US and China have clashed over everything from trade to technology and the South China Sea.
Those strains have played out across the relationship, making meetings at almost every level either politically impossible or far more fraught. Secretary of State Antony Blinken cancelled a trip to China after the US revealed that an alleged Chinese spy balloon was crossing US territory.
Days later, China rebuffed Secretary of Defense Lloyd Austin's effort to speak with his Chinese counterpart after the US shot down the balloon.
Even lower-level ties are fraying. China's defense attaché in Washington recently declined a request for a lunch meeting with Deputy Assistant Secretary of Defense Michael Chase after Chase visited Taiwan, people familiar with the matter said.
The State Department has maintained limited working-level contacts. The head of the State Department's new "China House," Rick Waters, travelled to Beijing last week to assess the chances of further bilateral exchanges between the two countries, according to people familiar with the trip.
Ties plunged to a new low last August, when then House Speaker Nancy Pelosi visited Taiwan. That led China to cut off some contacts between the two countries' militaries.