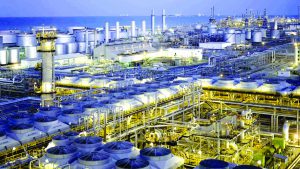 BEIJING / WAM / AGENCIES
Saudi Arabia's Aramco expressed its intention to be an all-inclusive source of energy and chemicals for China's long-term energy security and China's high- quality development.
Amin H Nasser, Aramco President and CEO, told the China Development Forum 2023 that the company is doubling down on China's energy supply, including new lower carbon products; chemicals; and advanced materials, all supported by emissions reduction technologies.
"In particular, we see a major win-win opportunity to build
a world-leading, integrated downstream sector in China, with special emphasis on the high conversion of liquids directly into chemicals as part of our broader liquid-to-chemicals business expansion plans. Indeed, today we are signing definitive agreements with North Huajin Chemical and Panjin Xincheng to begin construction on a state-of-the-art
integrated refinery and petrochemical complex in Liaoning Province," he said. "Aramco's view of the energy future, and the most realistic path to get there, closely aligns with China's."
And, like China, he added, "We think in decades not quarters. That is why your long-term energy security and your high-quality development are among our highest priorities, to the horizon and even beyond."
An initial framework agreement for the Liaoning refinery was first signed during the Custodian of the Two Holy Mosque King Salman bin Abdulaziz Al Saud of Saudi Arabia's visit to Beijing in March 2017.
In 2019, Aramco agreed to set up a venture with two Chinese partners when Crown Prince Mohammed bin Salman was in Beijing in what was seen as a landmark deal with a key ally.
Aramco is expanding oil production capacity by a million barrels per day to 13 million barrels by 2027 and will increase gas production by more than 50% by 2030.