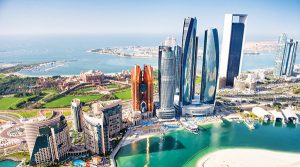 Abu Dhabi / WAM
A total of 4.1 million hotel visitors stayed in Abu Dhabi hotels during 2022, 24 percent up from 2021, data by the Department of Culture and Tourism – Abu Dhabi, revealed.
Hotel revenues climbed by 23 percent from the previous year to AED5.4 billion in 2022.
The statistics showed that Abu Dhabi hotels recorded occupancy rates of 70 percent during the reference year, a growth of 0.2 percent compared to 2021.The average hotel stay for guests was about three nights per guest, and the average revenue per available room was AED263, up 19 percent.
UAE nationals accounted for the largest share of the capital's hotel guests during the past year, with a share of 29 percent, or the equivalent of 1.182 million guests.
Indian nationalities led all other non-Emiratis with a share of 12 percent, or the equivalent of 480,000 visitors, up 31 percent from the same period in 2021. The nationals of Britain, Egypt, the Philippines, and Saudi Arabia followed with a share of 4 percent each.