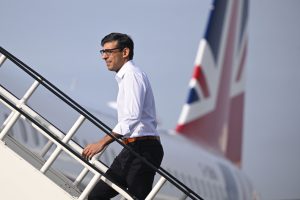 BLOOMBERG
UK Prime Minister Rishi Sunak will not attend the United Nation General Assembly in New York next month, a Downing Street spokesperson said in an emailed statement.
The UK delegation will be led by Deputy Prime Minister Oliver Dowden and Foreign Secretary James Cleverly, according to the statement sent to Bloomberg.
While he'll skip the annual gathering, Sunak plans to meet with a number of world leaders in the coming weeks, according to the spokesperson. That includes talks to be held at the Group of 20 summit in New Delhi in September, and at the COP28 summit in the United Arab Emirates that starts in late November.
Sunak and his ministers "will continue to use all their engagements with their international counterparts to drive forward the government's priorities," the spokesperson said.
The General Assembly is scheduled to include a summit September 18-19 to review progress on 17 key "sustainable development goals" — from ending hunger to providing clean energy — that overlaps with the start of the annual general debate.
The Financial Times earlier reported Sunak's decision to bypass the meeting.