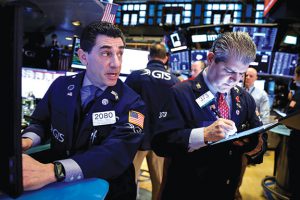 Bloomberg
A rebound in stocks moderated on Wednesday, while US futures drifted lower amid uncertainty over the omicron virus strain's economic impact and a foggy outlook for US fiscal stimulus.
Gains in tech shares offset declines in cyclical sectors in Europe, while a gauge of Asia-Pacific shares was in the green. Trading volume was lower than the 30-day average ahead of the holidays. Contracts on the S&P 500 and the Nasdaq 100 were lower after rebounding from a recent slump. A dollar gauge was steady, as were crude oil prices and Treasury yields.
Markets have been volatile at the end of a year that has seen equities rally amid a recovery from the pandemic, before losing some steam on worries about inflation, tighter policy and the omicron virus variant, which is prompting tighter curbs. Focus also remains on the $2 trillion US economic plan after President Joe Biden said there's still a chance he can strike a deal to get it through Congress.
Thinner trading volumes heading into the holidays could exacerbate market swings, leaving strategists reluctant to read much into day-to-day gyrations during the period.
"Despite the new restriction measures, many investors believe that omicron would only have a temporary impact on the economic activity and should not be a problem for the overall positive trend in equities," said Ipek Ozkardeskaya, senior analyst at Swissquote Group. "Investors should remain cautious with big ups and downs into the Xmas break."
On the virus front, the US Food and Drug Administration is poised to authorise a pair of pills from Pfizer Inc and Merck & Co to treat Covid-19 as soon as this week, adding to the arsenal of coronavirus treatments.
The global reopening narrative will in time gain traction again, Nicole Webb, Wealth Enhancement Group senior vice president, said on Bloomberg Television.
"While this variant is significant and the impact is powerful, I do still have my rose-colored glasses heading into the New Year because below the surface there is still a lot of opportunity" away from trades that are played out or frothy, Webb said.
Meanwhile, Elon Musk sold more Tesla Inc shares, taking him closer to making good on his pledge to sell 10% of his shareholding in the electric carmaker.
The Stoxx Europe 600 was little changed as of 8:34 am London time and futures on the S&P 500 fall 0.3%.
While futures on the Nasdaq 100 drop 0.5%, futures on the Dow Jones Industrial Average also fall 0.2%. The MSCI Asia Pacific Index rises 0.2%. The MSCI Emerging Markets Index also climbs 0.4%.
The Bloomberg Dollar Spot Index was little changed and the euro falls 0.1% to $1.1272.
While the Japanese yen falls 0.2% to 114.29 per dollar, the offshore yuan was little changed at 6.3796 per dollar and the British pound was little changed at $1.3269.
The yield on 10-year Treasuries was little changed at 1.47% and Germany's 10-year yield advanced one basis point to -0.30%. Britain's 10-year yield advanced two basis points to as much as 0.89%.